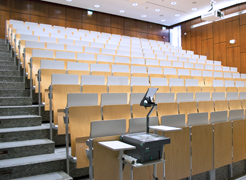 Teaching
As part of the Department for Computer Science and Applied Cognitive Science, we regularly offer courses for students of Applied Computer Science, Komedia, and ISE on a bachelor and master/diploma level. Recurring courses are
Mensch-Computer-Interaktion (Human Computer Interaction): Bachelor Komedia and Angew. Informatik, ISE)
Interactive Systems: Master Komedia and AI
Electronic Business: Master Komedia, Bachelor AI
Recommender Systems (alternative title: (Kontext-)Adaptive Systeme): Master Komedia and AI
In addition to that, we regularly offer projects (at Bachelor and Master level) as well as seminars on various topics. Please check the currently offered projects on this page. Please note that most of our courses are held in German.
Summer semester 2017
The planning for this semester isn't finished yet. Please check back later.