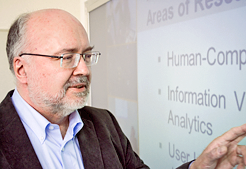 Prof. Dr.-Ing. Jürgen Ziegler
Forsthausweg 2, 47057 Duisburg
Room: LF 291
Mail: juergen [dot] ziegler [at] uni-due [dot] de
Phone: +49 (203) 379-2270
Fax: +49 (203) 379-3557
Jürgen Ziegler is a full professor in the Department of Computer Science and Applied Cognitive Science at the University of Duisburg-Essen where he directs the Interactive Systems Research Group. Prior to joining the University, he was head of the Competence Center for Software Technology and Interactive Systems at the Fraunhofer Institute for Industrial Engineering in Stuttgart.
Jürgen Ziegler holds a diploma degree in electrical engineering and biocybernetics from the University of Karlsruhe and a doctoral degree from the University of Stuttgart. His main research interests lie in the areas of human-computer interaction, information visualisation and context-adaptive systems.
Interactive Systems Group
The Interactive Systems group, led by Prof. Dr.-Ing. Jürgen Ziegler, consists of a number of researchers that focus on the topics listed in the Research section. We also regularly employ student assistants for both research and teaching. If you want to get to know us in person, feel free to visit us at the campus (LF building) of the University of Duisburg-Essen in Duisburg, or click on a specific team member to get more information on the particular person.
Senior researchers

Aysegül Dogangün
Personal Analytics group leader
Research assistants


Timm Kleemann
Researcher
Tim Donkers
Researcher
Students and staff
Ralf Berger
Student Assistant

Kathrin Bischof
Student Assistant

Anne-Marie Hussein
Editorial assistant iCom