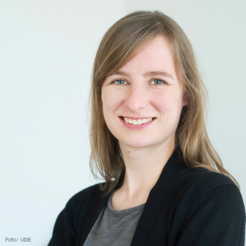 Main research topics
Administrative functions
Elected member of the graduation committee of the department of Informatics and Applied Cognitive Science, since 2016
Organization of events and workshops
Review activities for conferences and workshops
Review activities for journals
i-com Journal of Interactive Media (i-com)
Teaching
Katja Herrmanny, M. Sc.
Since working at the Interactive Systems group, Katja Herrmanny has been engaged in several EU, BMBF, and BMWi funded projects, which are FoSIBLE, GDI.Ruhr, ECOWEB, KOLEGEA, Engage.NRW and PAnalytics. Within this work, she focused on innovative interaction concepts on platforms designed for specific users. This includes aspects of usability, user experience and playful interaction. Katjas major research interests are health-related persuasive and motivational applications as well as interactive systems for elderly users.
Katja holds a Master of Science in Applied Communication and Media Science (with honor) with computer science being her major subject. She started working at the Interactive Systems group as a researcher in 2012 while studying the master program of Applied Cognitive and Media Science. She is a PhD candidate since 2015.
Katja is member of the Graduation Committee of the Department of Informatics and Applied Cognitive Science.
Publications