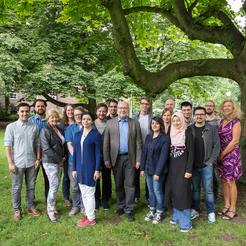 Prof. Dr.-Ing. Jürgen Ziegler
Forsthausweg 2, 47057 Duisburg
Room: LF 291
Mail: juergen [dot] ziegler [at] uni-due [dot] de
Phone: +49 (203) 379-2270
Fax: +49 (203) 379-3557
Paper accepted at IUI 2017

Our Movie Landscape approach will be presented at IUI 2017. The paper entitled "A 3D Item Space Visualization for Presenting and Manipulating User Preferences in Collaborative Filtering" has been accepted as a full paper for the conference held in Cyprus next year.
Workshops and events [iCal]
June 23rd 2015 in Duisburg, University of Duisburg-Essen and Fraunhofer inHaus

September 2nd 2014 in Munich, Germany

August 31st 2014 in Munich, Germany
Interactive Systems Group
The Interactive Systems Group at the University of Duisburg-Essen conducts research in the areas of human-computer interaction (HCI) and interactive technologies with the aim of creating highly usable, enjoyable and smart forms of interacting with digital applications, media and products. The group follows an interdisciplinary approach in close cooperation with academic and industrial partners and is directed by Professor Jürgen Ziegler, who holds the chair for interactive systems and interaction design at the Department of Informatics and Applied Cognitive Science. The group focusses on the following main areas of research:
Our research addresses a wide range of application domains, including electronic business, social media, serious games, health and well-being, smart environments and automotive applications. The Interactive Systems Group also participates in the DFG Research Training Group "User-Centred Social Media" . Furthermore, we are strongly involved in the university's educational programs in Applied Computer Science and Applied Cognitive and Media Science, offering courses in introductory and advanced HCI, adaptive user interfaces, electronic business as well as general computer science subjects.