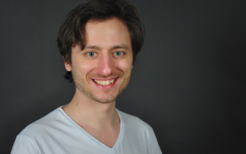 Main research topics
Johannes Kunkel, M. Sc.
Johannes Kunkel joined the Interactive Systems group in 2009. He started working as a student assistant and, after receiving his master's degree in April 2015, is now continuing the research around his master thesis as a researcher. His main research interest lies in Interactive Recommender Systems, Tangible User Interfaces and Gameful Experience. Johannes was a leading member of the group that founded Kinben - The Gamification Engine in fall 2014.
Publications
A 3D Item Space Visualization for Presenting and Manipulating User Preferences in Collaborative Filtering. Kunkel, J., Loepp, B., and Ziegler, J. (2017). Proceedings of the 22nd International Conference on Intelligent User Interfaces, 3–15. New York, NY, USA: ACM. [BibTeX] [DuEPublico] [Web]
3D-Visualisierung zur Eingabe von Präferenzen in Empfehlungssystemen. Kunkel, J., Loepp, B., and Ziegler, J. (2015). Mensch und Computer 2015 - Tagungsband: 15. fachübergreifende Konferenz für interaktive und kooperative Medien ; Gemeinsam - Arbeit - Erleben. Berlin: De Gruyter Oldenbourg. [BibTeX] [DuEPublico] [Web]