Jesús Omar Álvarez Márquez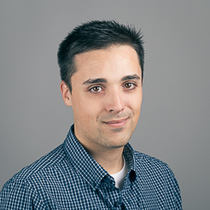 Jesús Omar Álvarez Márquez obtained a Master's degree in Computer Engineering from the University of Granada (Spain) in 2014. Soon after, he joined the Interactive Systems Research Group at the University of Duisburg-Essen, where he had spent a year as exchange student. His first research interests were in the field of group recommender systems, in particular the possibility of approaching them from the point of view of group decision-making theory.
In 2018 he became a doctoral researcher, and since then he has been investigating the implementation of recommender systems through the use of augmented reality technology. The main focus of his research is the study of appropriate methods for presenting and interacting with digital information to enable the delivery of recommendations at the point of sale, and the analysis of the role that both digital and physical elements could play in the customer's purchase decision.
He was part of the EU funded project "FairWays", where he was involved in the design, implementation and integration of AR-based solutions.
Contact
| | |
| --- | --- |
| Mail | jesus [dot] alvarez-marquez [at] uni-due [dot] de |